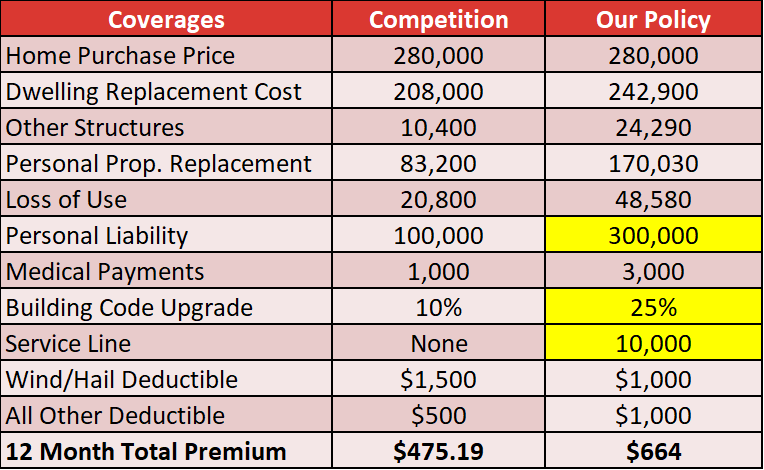 Protection vs. Price: Why price shouldn't be everything!
There's a lot to consider when you're purchasing a home, including your homeowners insurance. It's stressful and there is always something that costs a little more than you had planned. Many mortgage lenders have an insurance agent who they send your info to for a quick homeowners insurance quote. This helps them get your loan closed faster! Unfortunately, we have found that some agents either don't care about your coverage or they don't know. The good news: WE CARE!!!
Coverage makes such a huge difference at the time of a claim. The comparison above is a real world example of a client and friend that purchased a home this year. They did not understand why the competition had a cheaper price. I've highlighted a few key areas that we discussed because the lack of coverage will always hurt in the long run!
We see many problems with quotes from some other agents, but I wanted to highlight 3 areas here that make the additional $16 per month worth it!
Personal Liability: Two of the most common personal liability claims are dog bites and injuries around the home. Depending on the severity of these, the other person may choose to bring a lawsuit against you. If your homeowners policy only has $100,000 of coverage, this is the max they would pay. If the lawsuit determines you are responsible for $200,000 in medical bills, pain and suffering, you would be left on the hook for the additional $100,000. Most of us don't have $100,000 laying around, therefore, we would likely lose our home to this lawsuit.
Building Code Upgrades: The home in this example was built in the 1970's. Building codes have changed quite a bit from that point in time until today. If you had a fire that burn ¼ of your home, the rest of the homes electrical, plumbing, etc. would need to be brought up to current building code. At 10% of the dwelling coverage, this likely would not provide enough coverage for a home of this age.
Service Line Coverage: Did you know you are responsible from any of the utility lines running from your home out to the curb? This could be water, sewer, gas, electrical, etc. If a tree root enters any line or they are corroded away, these repairs can range north of $10,000. The competition's quote had NO coverage for this. Many company's do offer this coverage at a very low price, our policy included $10,000 of coverage.
These were just a few highlights from things we see every day. We want you to know what coverage you have and why it's important. We care about you and protecting the things you have worked so hard for! If you have any questions on what your current policy covers, please contact us for a review!